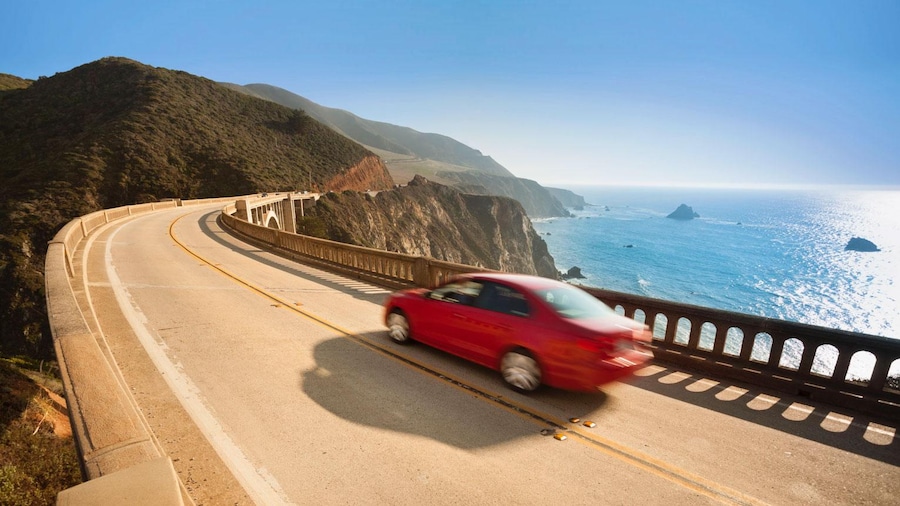 Book a car in 3 easy steps
1001 South Brand Blvd
Average pickup time: 21-30 minutes.
9.6
out of 10 (11 Reviews)
JoJo
Reviewed on Dec 31, 2019, 7:29 PM
Took a while waiting for pick up but other than that was fine.
Verona
Reviewed on Oct 22, 2019, 7:13 PM
I made a reservation a day in advance. I came to the office, and then they told me they had no available cars and would have to send me to North Hollywood for a car. I had to be at work soon, and if I had not planned for a large chunk of time before this pickup I would have been very late to work. They did set me up with free transport, but it was an extra 20mins out of the way. When I arrived, NoHo Hertz had no idea I was being sent over. They had a car but it was not ready. Because of my time constraint I couldn't even wait for them to properly clean the car, so my rental had a faint smoker smell the whole time I had it. Which I don't blame Hertz NoHo for. Also, Hertz Glendale still started my rental time at the original time of pickup, even though they had to ship me over to NoHo.... dishonest and bad customer service. Luckily upon return, the same accommodating service associate at Hertz Noho made sure I was taken care of. But the Glendale location needs some work.
2070 East Colorado Boulevard
Average pickup time: 0-10 minutes.
8.2
out of 10 (9 Reviews)
Lady T
Reviewed on Mar 3, 2020, 4:21 PM
Overall, my experience with Hertz was great. I do think the prices were a little on the high side at $200+ for two days.
Chelsea Gibbs
Reviewed on Apr 16, 2019, 4:50 PM
Everyone there was very friendly, but it took a very long time to get my car - not sure why.
4334 West Pico Blvd
Average pickup time: >60 minutes.
8.4
out of 10 (9 Reviews)
jai
Reviewed on Apr 11, 2019, 3:14 AM
even though they didn't have the vehicle size I originally requested they worked with me to get something even better for not much more.
Nyree
Reviewed on Apr 9, 2019, 4:56 PM
The Hertz team at this location is awesome! Super speedy check-out and thorough inspection.
Ty
Reviewed on Mar 28, 2019, 2:40 PM
The car I was rented was dinged up in so many spots, it was terrible considering the cars I've rented over the many years in the past. It was not pleasant at all to drive! I had hard no trunk space.
1150 South Beverly Drive
Average pickup time: 21-30 minutes.
7.1
out of 10 (9 Reviews)
Monique
Reviewed on Sep 3, 2019, 6:35 PM
I had a great experience! Will for sure use this site again. Thank you
810 South Victory Bulevard
Average pickup time: 11-20 minutes.
8.5
out of 10 (4 Reviews)
Roshik
Reviewed on Feb 19, 2020, 11:03 PM
The car was great except for the fact that it did not have a remote key. The vehicle only have a metal key without any remote as something happened with the previous renter. I was offered an upgrade to a mini van but that was too big for me !
Siege
Reviewed on Jan 27, 2019, 8:05 PM
Although the customer service was good, the location and the return time negated any savings I might have gotten choosing them when you consider round trip Lyft charges. They also photographed every ding, scratch and scrape on the car, which I'm sure helps protect me, but also made me nervous I would be blamed for some blemish that might have been missed. Every time I parked and left the car I was afraid someone would open their door on it and I'd be blamed. I picked the car up at 3PM, but had to return at noon because they close. Had to kill four hours at the airport. Thank god for Netflix.
Don
Reviewed on Dec 21, 2018, 1:38 AM
We rented from an off site Hertz, but everything was great and they even paid for a Lift driver From the airport to their location.
Lois
Reviewed on Nov 26, 2018, 8:10 PM
The attendant at the desk was very friendly and efficient
Book a cheap Hertz car rental
Hertz Rental Cars: What you need to know
If you crave convenience and reliability when you travel, all you need to do is reserve a Hertz car rental. In 1918, Hertz opened shopped with just a few Model T Fords to their name. Due to their quality service and product, today the company has expanded to include not just the Hertz brand, but Dollar and Thrifty as well. This combined power has placed Hertz in more than 10,400 different locations throughout North America, Europe, Latin America, Asia, Australia, Africa, the Middle East, and New Zealand. Individually, Hertz operates in more than 150 different countries and ranks as the most highly trafficked airport rental company in the United States. If the numbers don't speak for themselves, continue reading to see what makes Hertz stand so far above the competition.
How do I get a cheap car rental with Hertz? 
Some of the most effective ways to ensure you're getting the lowest price on your Hertz car rental are to:
Make sure you search and compare a wide range of vehicle options;
Book according to your individual mileage and fuel needs;
Choose the right car class for your travel plans. 
How old do I have to be to rent from Hertz?
Drivers must be 21 to rent a car from Hertz. A surcharge may be applied to the rate for those under the age of 25.
Is an additional driver possible?
You can add additional drivers if you plan on sharing driving responsibilities. Check with us when you make your reservation for the costs incurred for extra drivers.
What mileage is Hertz offering?
There are different mileage options available when you rent a car from Hertz, but the most popular is probably unlimited mileage, and for good reason. Since all your driving is included in your agreed rate, you won't have to worry about clocking up too many miles and paying for them when you drop the car off.
What fuel policy should I get? 
Like everything on your Hertz rental, the choice really is yours. We recommend opting for the full-to-full fuel policy, which does exactly what it says on the tin. Pick your car up with a full tank of gas, use as much fuel as you need and then just refill it before you drop it back off to its rental location.
What cars does Hertz rent out?
Hertz provide various collections when it comes time to choosing your vehicle. Select a Hertz rental car from The Hertz Adrenaline Collection™, featuring curve-hugging hot rods from Chevy and Ford. Or, hop behind the wheel of a Hertz Dream Cars™. This collection lets you feel the horsepower you wish you could harness in your daily life with vehicles from Mercedes-Benz, Ferrari, Bentley, and more. The eco-friendly traveler will relish Hertz's Green Collection. This line of electric and hybrid vehicles is the perfect nod to the environment and your getaway needs, including vehicles from Nissan, Toyota, Volkswagen and more.
What do I need to rent a car from Hertz?
Hertz make it easy to rent a vehicle. All you need to bring with you is your driver's license and your proof of insurance document. (You can buy insurance from the checkout if you are a US citizen and aren't already covered by your personal insurance.) Oh, and of course the credit card you used to secure the booking.
What kind of car should I rent from Hertz? 
As you can see, Hertz have a wide range of vehicles available to rent, so one of them is sure to match your travel needs. We've listed some of the options below to help you decide.
Avoid the hassle of waiting in line for public transportation during your next jaunt out of town and book your Hertz Rent a Car ahead of time. That way, instead of shelling out money for uncomfortable cab rides, you'll be lounging in your very own vehicle and exploring the area independently. Book your Hertz rental today with the help of our cheap deals and discounts here on CarRentals.com.