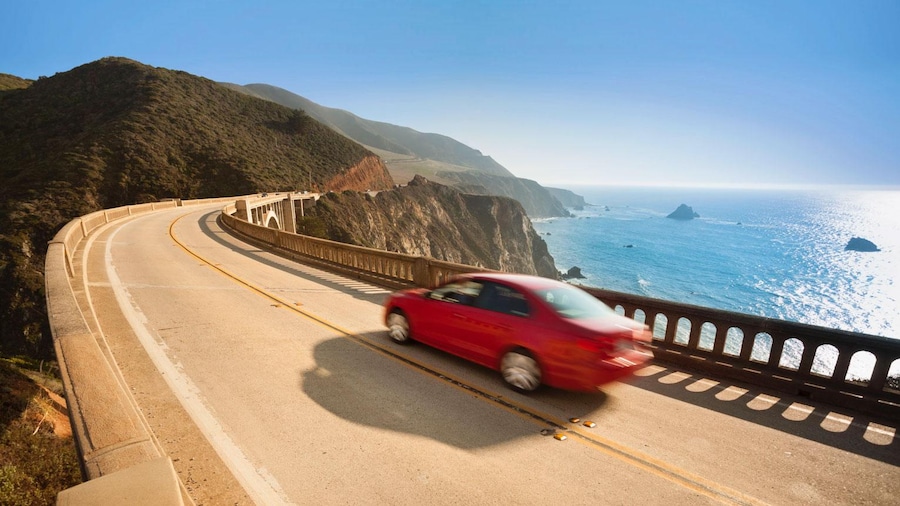 Book a car in 3 easy steps
Book a cheap Full Size SUV rental
What you want to know about Full Size SUV Rentals
If you and your team are looking for an affordable sport utility vehicle that will fit all your luggage and travel equipment, look no further than a full-size SUV rental. We have some excellent sports cars for those on a budget; a vehicle such as the Chevy Tahoe or a similar SUV will make your family vacation a whole lot more comfortable! If you need to know more before booking, have a read through of our commonly asked questions below:
Why rent a full-size SUV?
Take on any kind of terrain and enjoy maximum vacation views with a full-size SUV. These models are suitable for families who want to ride in comfort and fit in all their luggage, with safety as a top priority. Rent yourself one of the below or a similar vehicle when you book through CarRentals.com today:
Ford Explorer

Hyundai Santa Fe

Ford Edge

KIA Sorento

BMW X3

Jaguar F-Pace
Can I get a cheap SUV rental?
Yes. It's certainly possible, if you:
Compare rates for the best deal;

Don't pick an airport car, which are more expensive than others;

Know what you need in the way of fuel and mileage;

Book as early as you can to guarantee lower prices.
How old do I have to be to rent a full-size SUV?
For larger vehicles, you'll generally need to be between 25 and 65. This restriction can differ by rental company though, so you may be allowed to rent a vehicle if you pay an extra cost or purchase additional insurance.
Do I need insurance for renting an SUV car?
Yes. The car must be insured before the driver sets off in it. Outside of the U.S., if the product purchased does not include insurance, the car rental company will ask that you bring proof of coverage or you may have to buy insurance from them. Please note that when renting a vehicle in some countries, such as Mexico and Cuba, you will need to buy additional insurance. In the U.S., your own car insurance or that provided by your credit card may be all you need, so check before you buy! Insurance is not included in the rates shown on the U.S. website, but you can buy insurance at the check-out stage if you are a U.S. Citizen. When you make your booking, check the rental company's T&Cs.
What do I need to bring when picking up a rental car?
Your driver's license, insurance, and the form of payment accepted by the car rental company in the name of the driver. Further proof of ID may also be required, so it's best to check with the car rental company directly before you make your way to collect the car rental.
Is it possible to rent a SUV one-way?
Yes, we can offer one-way car rentals. Let us know your preferred pick-up and drop-off points when making your booking. Restrictions and additional fees may apply in these cases and cross-border one-way rentals are not always allowed, so please check beforehand with the rental company.
What fuel policy is available for a car rental?
Since you will pick up the car with a full tank of fuel, we ask that you fill it up before you drop it off, as per our full-to-full policy.
Should I get unlimited miles when renting an SUV?
Most prices quoted on the website do include unlimited mileage, but local renters may have some restrictions, so check the T&Cs when booking to be certain of your mileage limits!
Can I use a debit card to rent an SUV?
It's advisable to use a credit card because debit cards are not widely accepted for reservations. Some U.S. companies may accept debit cards but you'll probably need to provide further proof of identification in this case. Cash, pre-paid cards, and gift cards are not accepted for making rental bookings.
What is a full-size SUV?
A full-size SUV is the ultimate in comfort and power. If you've been dreaming of getting behind the wheel of a BMW X5, a Chevrolet Tahoe or similar, this is your chance! Perfect for large groups, these rentals can seat up to 8 passengers, so no one gets left behind!
You can also learn more by taking a look at our general car rentals FAQ page. Got all the info? Now, find your perfect Full-Size SUV and reserve it today! Or, you can learn more by taking a look at our general car rentals FAQ page .