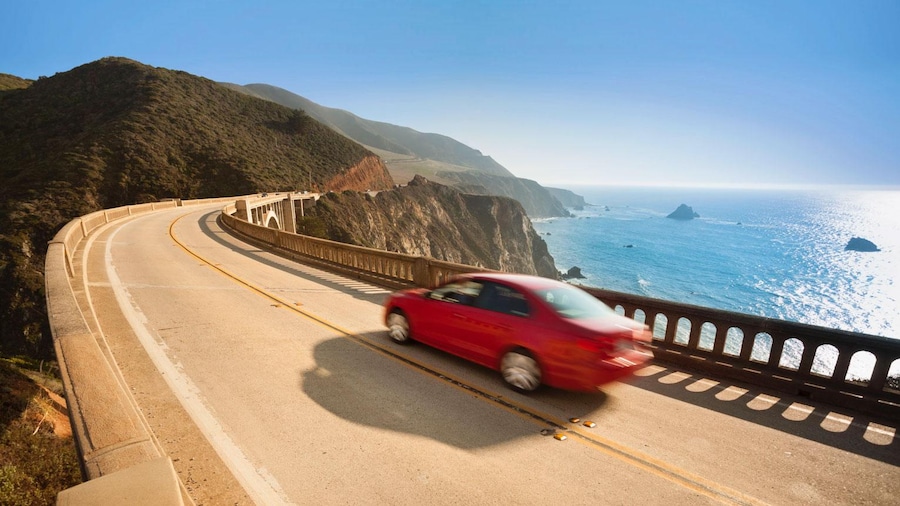 Book a car in 3 easy steps
Book a cheap Budget car rental
Budget Rent A Car: All you need to know
On your next jaunt out of town, plan ahead and book a rental car with a brand you can trust. Here at CarRentals.com, we partner with Budget Car Rental, a company that has provided stellar customer service since its founding in 1958. In the more than 50 years that have followed, Budget has grown to have an international presence in more than 120 countries with over 3,000 individual locations. Currently headquartered in Parsippany, New Jersey, you can now effortlessly reserve a Budget rental car or truck in North America, Europe, Africa, the Middle East, Latin America, and Asia.
How do I get a cheap car rental with Budget?
Budget offer great rates on their car rentals. Make sure you find the best deal out there by:
Running a comparison of the vehicles and prices available on the website;

Booking according to your mileage and fuel needs;

Planning and reserving the right car class for your travel requirements. 
How old do I have to be to rent from Budget?
Remember that you can rent a car from Budget if you are aged 21 or over. If you're under 25, you might have to pay a surcharge for being a younger driver.
Is an additional driver possible?
Sure, you can add an additional driver. Perhaps you'll be sharing the driving on your exciting road trip or just both want a chance to get behind the wheel of your rental vehicle. Just let us know when you make your booking, so we can adjust your rate accordingly.
What mileage is Budget offering?
If you don't want the hassle of checking how many miles you're clocking up every day, you should opt for unlimited mileage. While there are a range of mileage options available with Budget, this one is a practical choice, since you won't need to watch the odometer for the duration of your trip!
What fuel policy should I get?
Our favourite fuel policy is full-to-full, since you'll only use what you need. You also don't have to worry about finding a gas station and filling up as soon as you've collected your vehicle, since the tank will already be full upon collection. Just remember to refill before returning the car!
What cars does Budget rent out?
Budget offers some of the best vehicles on the market from reputable brands. Perhaps you want to book a BMW or Chevy convertible for an out-of-town treat. Or you might reserve a roomy Ford or Lincoln SUV if you're traveling with the family in tow. You can also reserve a Budget cargo van, as cargo vans are ideal when you're looking to save money during your big move.
What do I need to rent a car from Budget?
Quite simply, just make sure you pop your driver's license and your proof of insurance document in your suitcase, since you'll need to show these at the rental counter before being given your keys. One other thing: don't forget to bring the same credit card you used to secure the booking.
What kind of car should I rent from Budget?
Whether you're headed for a camping trip with the whole family or a romantic city break, Budget will have the perfect rental for you. We've listed some vehicle options below to help you decide which rental is right for you.
Wherever you're headed and whatever your vacation plans, browse through our selection of Budget rental cars today on CarRentals.com, where we always offer you the best prices on your temporary transportation.