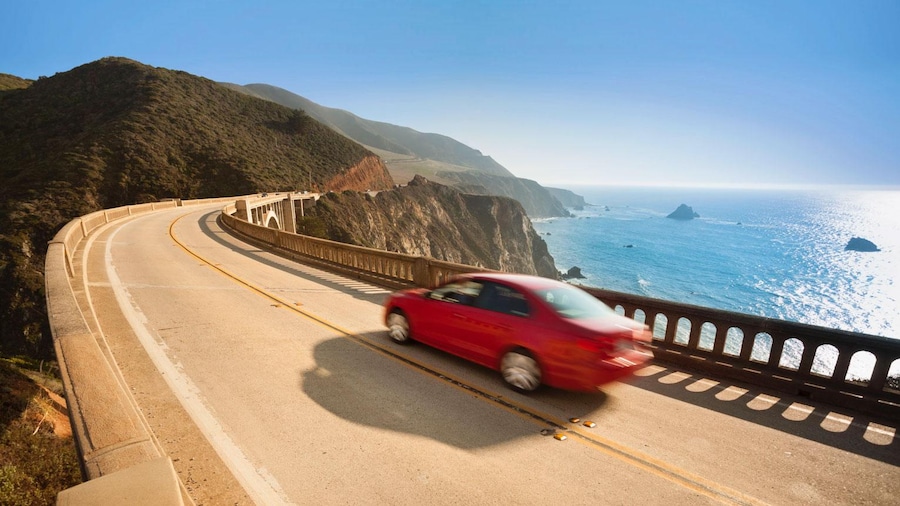 Book a car in 3 easy steps
Book a cheap Europcar car rental
Kick-Start Your Next Adventure with Europcar
With over 70 years of history, and operating 3,300 branches in 150 countries, Europcar is one of the grand dames of the rental car industry. But its storied past belies its forward-thinking operations, and Europcar not only offers its customers a variety of vehicles that are, on average, less than 6 months old, it's also an industry leader in environmental policy, meaning that you can put the pedal to the metal without worrying about your carbon footprint. Whether you're looking for a van that fits your whole clan, or a sophisticated ride to explore the countryside, you can find your perfect match with Europcar.
What's the best way to get a cheap car rental with Europcar?
If you're looking to save a bit of cash, book a car at a city branch rather than at an airport, as you can often find significant discounts.

Consider selecting an economy rental car. It may not have all the top-of-the-line luxuries found in premium models, but you'll have more spending money to splash out on meals and attractions.

If you're planning a long-haul trip, consider renting an electric car or a hybrid vehicle. Not only will it help you keep fuel costs down, you'll minimize your carbon footprint.
How old do I have to be to rent from Europcar?
The minimum age to rent a vehicle is dependent on the country you plan to visit, with age requirements generally ranging from 18 to 25. Check out the terms and conditions for your destination to find out if you meet the necessary requirements.
Can I add an additional driver?
Most likely. Nearly all of Europcar's branches offer the ability to add another driver, so if you're planning on taking the whole family on vacation, or just want to hit the open road with a buddy, it's easy to bring a co-pilot.
What kind of mileage does Europcar offer?
Europcar lets you pick the plan that best suits your needs. If you're thinking of just touring the town, you can choose a limited miles package, while opting for unlimited miles means you can hit the highways without worrying about the odometer.
What's the fuel policy?
The most popular option is the Full Tank Option, which allows you to pre-pay for a full tank of gas and return the vehicle on empty. Or, if you prefer to handle the refueling, Europcar offers plans for that as well.
What car models does Europcar offer?
From 9-person vans to sporty convertibles, Europcar offers a diverse fleet of vehicles. So whether you choose a rough-and-ready SUV to tackle the coastal highways, or a smart hybrid to see the city sights, you'll find car models to get you "moving your way".
What do I need to rent a car from Europcar?
Make sure to bring your driver's license, a passport, and a valid credit card, as well as a utility bill with the same address as your driver's license. If you've prepaid for your reservation, you'll be asked for the card you used.
What kind of a car should I rent from Europcar?
With Europcar's huge range of vehicles, you'll have no problem picking the perfect wheels to suit your itinerary and location. Here are a few quick suggestions to get you on the road.
Premium cars
Best for: Drivers who want to enjoy all the luxuries and perks afforded by top-of-the-line vehicles

Category includes: Mercedes C220, Jaguar XE and similar
High-capacity van
Best for: Families or groups who need something that can fit the whole clan and their luggage

Category includes: VW T30 Shuttle and similar
Hybrid vehicles and electric cars
Best for: Eco-friendly drivers and budget-conscious travelers

Category includes:BMW I3 Electric, Toyota RAV4 Hybrid and similar
At CarRentals.com, we can help you find the perfect Europcar car rental to suit your needs, at a price that won't bust your budget. Check out our selection of deals and deep discounts to book the rental car that's right for you.