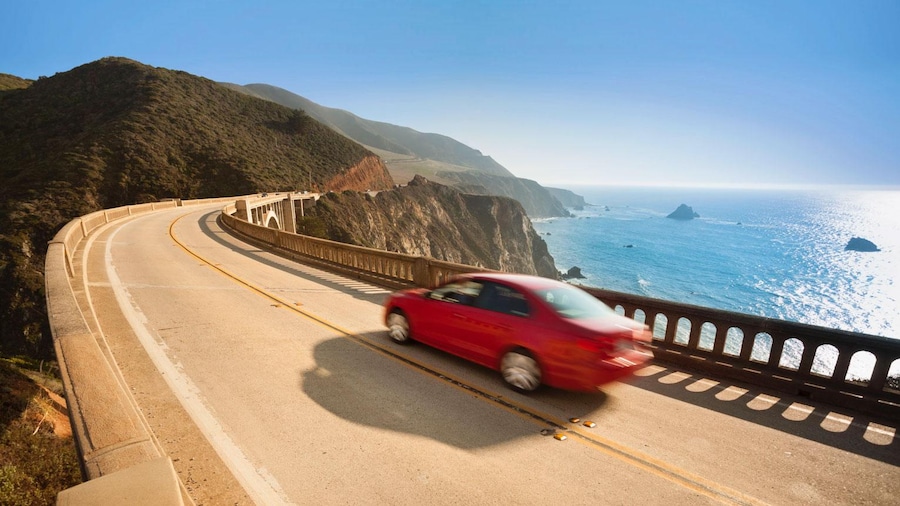 Book a car in 3 easy steps
What you need to know about SUV Rentals
Do you dream of renting a sport utility vehicle for your family vacation without breaking the bank? There's no need to go over the travel budget if you rent an SUV like a Chevy Tahoe or equivalent, and you'll be guaranteed enough space for your sport equipment and luggage without sacrificing on legroom. To get you started, we've answered your SUV rental questions and answers below:
Why rent an SUV?
If you're looking for a stylish yet fuel-efficient car rental for your next vacation, you will love CarRentals.com's wide range of SUV vehicles. You'll never be short of space and everyone in your travel party will have a great view from the raised seats that are typical of cars such as:
Hyundai Ix35

Hyundai Santa Fe

BMW X1

Audi Q7

Ford Escape or other similar SUVs.
Reserve yours today!
Can I get a cheap SUV rental?
Yes. To guarantee you're getting the best possible price, make sure you:
Do your research and compare rates;

Don't pick up the vehicle from the airport – that'll cost you;

Make a note of the mileage and fuel you think you'll need before you book;

Book early to avoid last-minute prices, which could be higher.
How old do I have to be to rent an SUV?
For larger vehicles, you'll usually need to be between the age of 25 and 65. Age restrictions tend to differ by rental company though, so you may be allowed to rent a vehicle at an additional cost or on the condition that you purchase additional insurance.
Do I need insurance for renting an SUV car?
Yes. Car Rentals companies need to ensure that the car is insured before the driver sets off in it. Outside of the U.S., if the rental policy does not include insurance, the company will ask you to provide proof of coverage or request that you buy insurance from them. An important reminder: when renting a vehicle in certain countries, such as Mexico and Cuba, you will have to buy additional local insurance.
What insurance do I need for renting an SUV car in the U.S.?
In the U.S., your own car or credit card insurance may be all you need, so check ahead of booking. The rates displayed on the U.S. website do not include insurance, but if you are a U.S. Citizen, you can buy insurance at the booking stage.
What should I check before renting an SUV car?
When you make your booking, check the rental company's T&Cs.
What do I need to bring when picking up a rental car?
As a general rule, the three important things to remember are: driver's license, insurance, and the form of payment accepted by the car rental company (in the name of the driver.) Additional proof of identification or other documents may also be required, so it's best to check with the car rental company directly.
Is it possible to rent a SUV one-way?
Yes, one-way rentals are offered. Let us know when making your reservation. Restrictions and additional fees may apply in these cases and cross-border one-way rentals may not be permitted, so do contact the company to determine the feasibility and cost of a one-way rental.
What fuel policy is available for a car rental?
We have a full-to-full fuel policy as standard, which means you'll need to refill the tank before you return it, to avoid any additional costs.
Should I get unlimited miles when renting an SUV?
You'll usually have unlimited mileage, but local renters may have restrictions, so check the T&Cs of your reservation first!
Can I use a debit card to rent an SUV?
We recommend you always use a credit card when making a reservation, given that debit cards are not widely accepted by rental companies. Some U.S.-based companies accept debit cards but you may need further proof of identification if you want to pay using this method.
What payment methods are not accepted for reservations?
Cash, pre-paid cards, and gift cards are never accepted for any reservation.
What is a standard SUV?
A standard SUV will provide you with plenty of room and comfort when you need to bring a lot with you. These rentals, such as the Jeep Grand Cherokee or the Ford Edge, among others, are a popular choice for business travel and fun weekend getaways. If you want to go bigger look for car rentals FAQ page.